Do you want to increase your online brand visibility and make your product available to a wider audience? Do you wish to boost sales and revenue by tapping into the huge mobile network?
If yes, then there is one solution that can help you achieve all this and more— Mobile app marketing.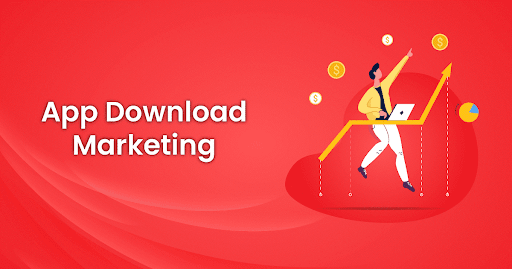 Mobile applications are great business assets as they allow you to extend your reach and cater to a larger audience. They also help you build long-term relationships with customers and promote brand loyalty. But building an app is only half the battle won. The real challenge lies in reaching the users, enticing them to download it, and retaining them thereafter. This is where a mobile app marketing strategy comes into play. When done right, mobile app marketing can be the difference between an app that gains traction or one that fizzles out without making an impact.
There are several ways in which mobile apps can benefit your business including:
Increase in traffic:
Mobile apps offer a unique opportunity to increase traffic as they are available on both IOS and Android stores. Furthermore, updates in the form of push notifications allow you to stay connected with your customers even when they are not using your application directly.
Better customer satisfaction:
Mobile applications are interactive and provide customers with instant access to information about products and services
What would your business look like if it was on top of the app store?
What would it feel like to have more customers than you know what to do with?
If you're a business that has a mobile application, then you know how important it is to be at the top of the app store rankings. But what if you don't know how to get there? What if you have an amazing product, but no one can find it?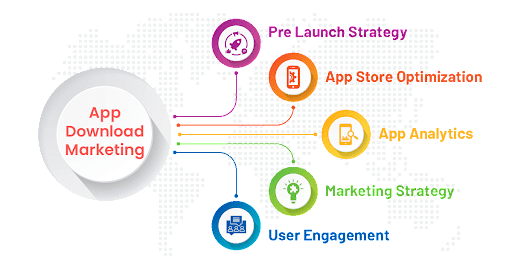 We offer reliable app marketing services that take your business application to the next level. We make sure that your business application makes itself visible and wins the users as well. With our expertise in app store optimization techniques, we ensure that your mobile app has all that it takes to reach the top of App Store or Play Store as per the need. We empower the app to leave the competitors behind and reach the top rankings. This translates into higher visibility and traffic, which means more downloads for the app and more customers for the client's business.
Pre-launching strategy
When you're launching a new app, it's vital to have a pre-launch strategy in place. This will help you prepare for the launch and build momentum that will carry your app through the first few months.
One of the most important things to do is to understand the niche competition. Figure out what other apps are like yours, and how you can make yours different and unique—that way, when you launch your app, there's already a built-in audience for it.
Our experts can help you analyze your app store's situation so that you know when to launch. We can also offer consultancy about how to make your app unique so that it generates user interest.
User-acquisition
We know how a user will interact with an app
Our team has managed over $30 million in user acquisition investment, and we've got the results to prove it: our clients have seen an average 77% increase in app installs and a 200% return on ad spend. We do this by using proprietary technology to plan, execute, and optimize your app's user acquisition campaigns on all global advertising networks.
So if you want to see your app advertised across the world in 10 languages, on every channel from Facebook to Spotify, with a huge push to target the most relevant demographics for your product—while maintaining a laser-sharp focus on increasing the number of installations and usage of your app—then you need us.
App Analytics
Downloads are great, but they're only a small part of what we're aiming for. We want users to keep coming back, and we want them to be active. We know that the way to do that is to understand what's happening inside the app. That means understanding the full analytics story—not just the downloads, but where users are spending time and why they might stop using the app.
That's why we believe in getting a thorough understanding of App Store Optimization, analytics, and app usage metrics. This is how we'll be able to achieve our goals for long-term active users.
Marketing Strategy
It's time to get clear about your strategy.
We don't just give you a business plan and call it a day, we start by getting clear about your vision for the future. We spend time with you defining your goals and help you convert them into measurable outcomes. Then, we work with you to set up the right metrics that will help you track those objectives on a regular basis.
Measuring results doesn't just mean checking in on sales numbers — it means having the right conversations with the right people in your organization and making sure that everyone is working toward the same vision and goals.
We take a collaborative approach to building a flexible strategy that empowers your team to make decisions based on data, so they can focus on growth instead of guesswork.
App- monetization strategy
As an entrepreneur, you know that earning money with your app is the ultimate goal. But one thing you might be having difficulty with is finding the right monetization model. We're here to help!
Our detailed pricing and monetization strategy will help create the perfect model to maximize your app's AppStore earnings.
You can choose from three different models:
1. Paid Apps
This model requires users to pay for the app before they download it. It tends to work best for apps that are used infrequently and don't require updates.
2.In-App Purchases
This model works best for games or other types of apps where users want to purchase more items or levels within the app itself, such as extra lives or avatar outfits in a game.
3.Advertising
This model involves showing ads within your app, which can be a great way to earn money—as long as it doesn't interrupt user experience too much.
Choose Your App Marketing Team Correctly:
Your app is a million-dollar idea.
But it's not enough to just have an amazing idea. You need the right marketing strategy to make sure your app doesn't sit on the app store shelf collecting dust—you want it to change the world, and we're here to help you do that.
Our deep understanding of the mobile application marketing process means we can create unique, tailor-made plans that cater to the unique needs of our clients. We've got an impressive track record of delivering successful campaigns for hundreds of satisfied clients across diverse industry verticals, so you can rest easy knowing your app is in good hands with us.
We excel in terms of versatility too as we hold expertise in apps for iPhone, Android, Windows and cross-platform apps. We integrate the latest tools and techniques in our marketing solutions to make sure that they deliver high ROI. And, despite all this awesomeness, our services are competitively priced so you can feel like you're getting a good deal too.